As the name implies 121 Fundraising Limited provides a range of services to charities to assist in their individual donor fundraising activities. They specialise in the use of games to encourage participation in fundraising by commonly untapped market segments, whose cause disposition alone may not persuade them to give.

In early 2006 they launched a numbers based game designed to replicate the key characteristics of a weekly lottery, but structured in such a fashion as to offer a far greater degree of flexibility and better prize offer than normally feasible and at no risk to their charity clients.

Players in the game can win cash prizes ranging from £10 to £50,000 every week, based on the comparison of numbers between their own selection and an external range. The game was designed to rely upon the number match probability in order to predict the prize payout ratio.

Early in 2009 it became apparent that the distribution of player selected numbers was not even across the range of permutations (of which there are 49 million), hence certain number combinations could potentially result in multiple jackpot liabilities in a single week.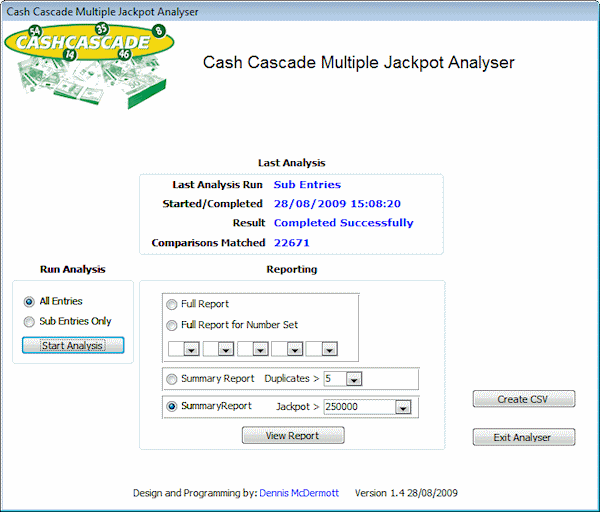 A Different Approach
I took a different approach to the problem and decided to compare users selected draw numbers to determine where there could be multiple jackpot liabilities.
Driven from a single form, the user operates from left to right; firstly undertaking analysis of all the currently selected draw numbers, the system provides user feedback during this process. Once the analysis is complete the central section of the form shows the results of the last analysis.
Reporting
The system provides flexible reporting facilities allowing the user to select, a full report, a report against a given set of draw numbers, a report based on the number of jackpot wins, and another based on the financial levels of payout.
Example Report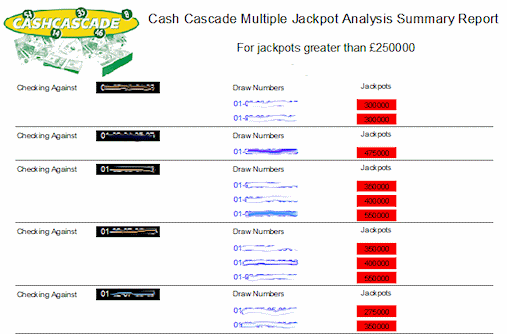 Export of Results
The system also provides a facility to export the results of the latest analysis to allow further comparison to data exports from another system.
See examples of some of my Microsoft Access Development and VBA Programming Projects here...