Art du Midi
The Art du Midi website presents contemporary art from the south of France.
The site is fully maintained by the client utilising a sophisticated back end content management system. I developed this system to operate visually and mirror the front end of the site.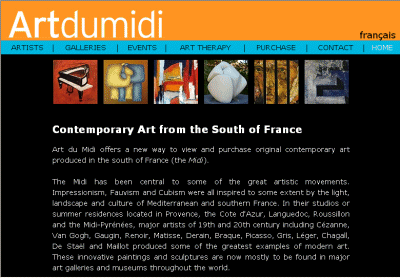 The overriding philosophy of the site is that it is image driven with minimal text, various pieces of art are presented in mosaics, the user simple clicks an image to be led through the site.
The site is fully eCommerce enabled with administration feedback and operates in both English and French.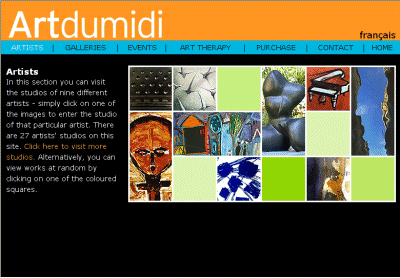 The image above shows one of the pages of the site as seen by the visitor, and the image below shows the same mosaic displayed in the back end content management system, this system allows the setting up of all mosaics, the adding and amending of all tooltips associated with the images as well as the corresponding full artwork information.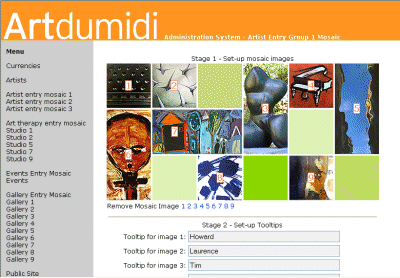 The administrator is also able to set up all of the events information including images, venue and date details as well as set a preferred display order.
The site takes care of resizing uploaded images and rejecting any that do not conform.
The site does not display the clients e-mail, but offers a detailed enquiry form, this helps reduce the amount of spam caused by email harvesting robots scanning the Internet.
Technologies used:
ASP
ASPJpeg
ASPUpload
CDONTS
CSS
HTML
JavaScript