South Essex Gymnastics Club:
This project involved the enhancement of the South Essex Gymnastics Clubs existing Access 97 Database system to provide facilities to allow staff to record payments in real time.
In addition to recording payments, the enhancements provided the following:
The production of a printed receipt.
The ability to take payments for various activities, or equipment purchases.
Tracking and display of a members payment history.
The ability to make adjustments.
The ability to assign charges to attendees of a particular training session on mass.
The production of invoices.
Various management reports.
The Payments Processing Form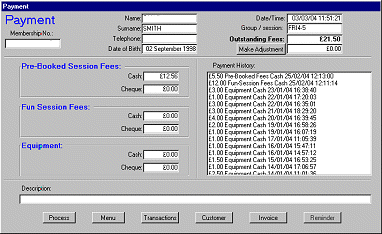 See examples of some of my Microsoft Access Development and VBA Programming Projects here...