Sales Monitoring and Reporting System developed for Virtual BM
I was approached by Virtual BM to see if I could help them overcome the problems they were experiencing monitoring sales by manual means, the use of Microsoft Word for example and manual e-mailing.

After chatting to Amanda at Virtual BM I proposed two solutions, one office based using Microsoft Access, the other, Intranet based which has the added advantage of being usable while away from the office, all the data is held in one place therefore there are no synchronisation issues.

The system has been developed to run in an HTA, thereby providing a clean browser interface in which to present the data.

The system has many features, but a few that really aid quick and efficient use are
Multi access levels, users are only offered relevant options.
Auto presentation of overdue data with one click client e-mailing.
Useful reporting facilities with clearly formatted client reports.
Clean simple interface.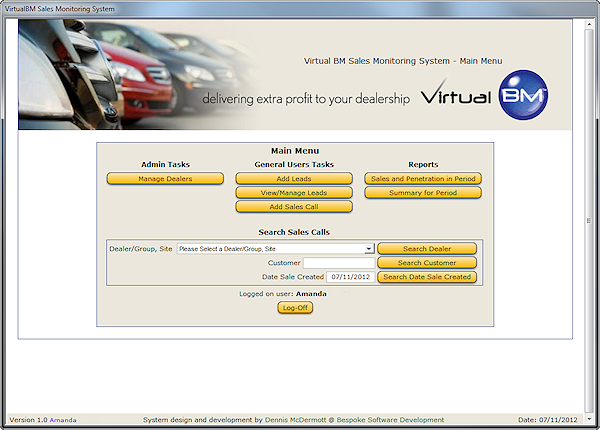 Update:
After using the original system for some time, Virtual BM contacted me to discuss the possibility of adding some basic invoicing facilities to the system, at that time the client used reports from this system to create invoices in another system, so it made sense to create invoices directly from this system.
This was achieved by creating a report with user selected selection criteria to select either individual dealers or dealer groups for invoicing, upon production of each invoice the system increments the invoice number ready for the next invoice, thereby ensuring a consistant numbering facility. It also required adding facilities to store contact details for each dealer and provide facilities to maintain this contact data.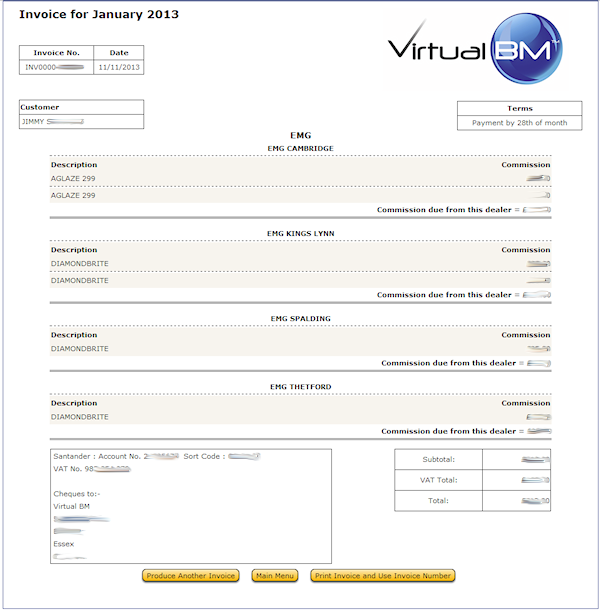 Technologies used in this project:
ASP
CSS
Datatables
HTA
HTML
JavaScript
JQuery
SQL