Moving Ahead Online Ltd (MHOL)
MHOL contacted me to discuss the potential for creating a system that would synchronise data held on their local servers with their award winning website.
After an initial meeting and discussion relating to other data synchronisation systems I had written I was engaged by MHOL to undertake the development of a system.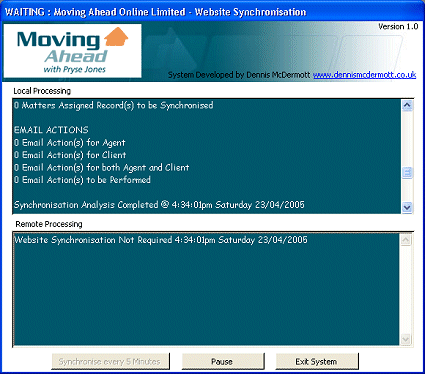 MHOL were manually updating their website with conveyancing details and as their business was growing this was becoming impractical. The company decided to install a proprietary case management system. My task was to synchronise the data within the in-house case management system with the website.
I created specification documents that covered the interaction between the in-house case management system and the synchronisation system, as well as between the synchronisation system and the existing website. I created the system using Microsoft Access, and also utilised IIS to provide a platform for the ASP pages that are involved in the synchronisation process.
The system compares data in multiple data tables, and adds, updates or deletes data on the website as appropriate, the system also integrates with pre-existing code on the website that sends HTML based e-mails to both clients and agents detailing the progress of the conveyancing process. The system was written so as to be autonomous in that it did not require any changes to the existing website source files.
System Features
Easy configuration.


Data availability checking.


Configurable synchronisation period.


Configurable data and website location information.


Provides feedback to user of both local synchronisation analyses and online synchronisation progress.


Stores self maintaining process history.
See examples of some of my Microsoft Access Development and VBA Programming Projects here...