The Gifted Goat
eCommerce site fully maintainable by the client:
This site is a full eCommerce site that is easily maintained by the client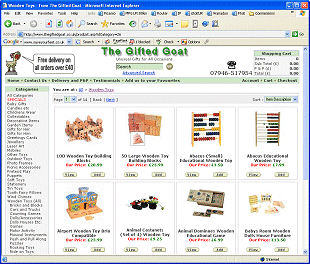 Features:
Database based shopping cart.
Encryption of Passwords and Credit Card numbers.
Customer can view and modify their personal info by logging on to their account.
Advanced search function.
Catalogue & Products

Unlimited number of Products, Categories and Options.
Option Groups can be individually set to Optional or Required.
Support for product Ratings & Reviews per product.

Easily manage Products, Categories, Options, Customers, Shipping, Locations, Orders and much more.
Emails sent to customer via the store can be customized.

See examples of some of my Microsoft Access Development and VBA Programming Projects here...