Broadway Records:
Stage 1
Stage 1 of this project provided the client with facilities to import item catalogues from Excel, modify this data by calculating the selling prices, and create comma delimited files for upload to Amazon.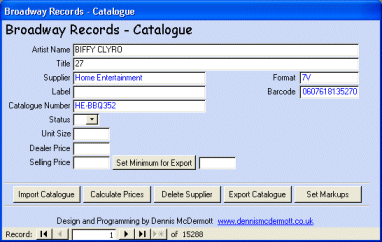 Stage 2
The second stage of this project added increased functionality to the system.
Importing data downloads from Amazon relating to products sold.
Providing the ability for the client to set up e-mail templates in three languages, English, French and German.
Sending of dynamic e-mails created using data stored in the database at various stages, such as when goods are dispatched, or placing orders with suppliers.
Processing orders by scanning the barcodes on the stock as it arrives from suppliers, incrementing stock levels appropriately.
Batch printing of despatch labels, including the facility to select a starting label thereby reducing label wastage.
Creating upload files, to upload to Amazon in three currencies, GPB, Euros and US$, facility included for client to maintain currency conversion rates.
The Orders Form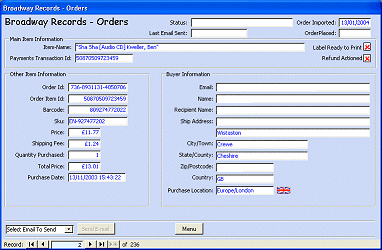 The Order Processing Form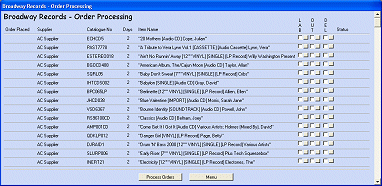 See examples of some of my Microsoft Access Development and VBA Programming Projects here...