Camping La Corconne

This is a quad language French-English-Dutch-German site to promote a campsite located in the beautiful Cevennes in the Languedoc region of France.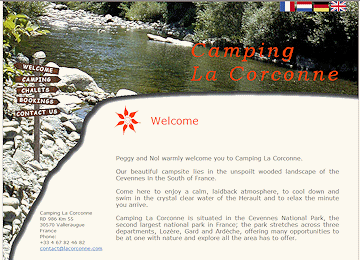 The site does not display the clients e-mail address anywhere to help eliminate spam, contact is made via an online form.

The navigation is by a novel signpost based on a real signpost located on the campsite.

The site uses ASP and many variables to allow the display of the pages in the four languages, the prices and all the text are held in variables, the site uses XHTML extensively.
Technologies used: