Sunnyseek UK Hotel B&B, Guest House and Self Catering Directory: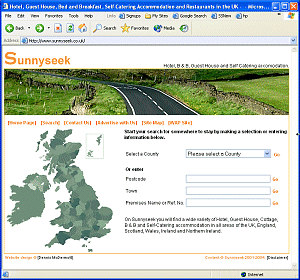 This project involved the design and creation of a complete online portal for advertising UK Hotel, B&B, Guest House and Self-Catering accommodation.
This site is written in ASP, and fully database driven. This database is updated by synchronising with a local database via a browser based interface.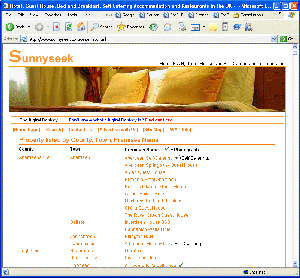 The site features a sitemap page that is self maintaining, due to the inclusion of links which call routines to rebuild the sitemap page dynamically. These links are followed by search engines, thereby rebuilding the sitemap without human intervention, this keeps the sitemap page up to date automatically.
Features include, various methods to search for accommodation directly from the front page, an online signup facility and dymanically created facility icons.
Of particular importance to the advertiser is the ability to send an e-mail enquiry via the site without exposing their e-mail address, as well as notification when they receive a click-through to their own website.